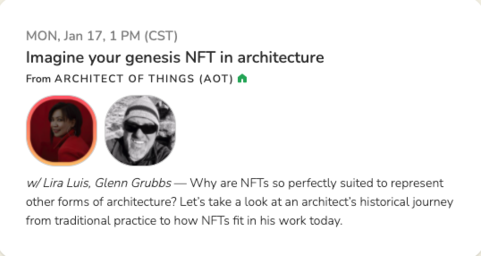 Recent guests
Zoë Camper FRSA
Co-Founder of The Augmented Society Network of The RSA USA
Adrian Velicescu
StandardVision's founder and chief creative force
Krista Kim
Mars House - World's first digital house sold on the NFT
Adrian Stein
Quantum Mirror - World's first physical NFT installation
Ogbonnaya Agom-Eze
Founder & Editor-In-Chief @Oaekpost
Minerva Montooth
Frank Lloyd Wright Foundation - Social Director
Architect Of Things (AoT)
🖥️️️ Architect of Things (AoT) is a network of "architects" searching and providing solutions to new worlds that intersect with science, software, and technologies for the purpose of connecting and exchanging experiences, knowledge, and stories within the physical reality and the virtual reality, over the Internet. The way architects operate is ever evolving due to the convergence of multiple technologies, social media, machine learning, commodity sensors, and embedded systems (environmental, biological, socio-political). 📐 The established architecture that is historically performed on physical reality, now converges with intersectionalities that contribute to enabling the Architect of Things. The AoT includes those who design traditional spaces, buildings, or environments, smart homes, smart cities, virtual spaces, and support one or more common ecosystems in the combined virtual and physical space (metaverse), which can be controlled via devices associated with that ecosystem (e.g. your smartphones, your Artificial-Intelligence-powered virtual assistant devices, Virtual Reality headsets, Augmented Reality fixtures, mixed-reality smart glasses, etc). Just one more thing, we know you have many clubs to choose from and we thank you for choosing to follow the Architect of Things. Join AoT on 👋 Clubhouse and 💎 Greenroom today! You'll belong, in other words it's your safe equitable space! 📱 Text AoT toll-free: +1 (833) 937-8423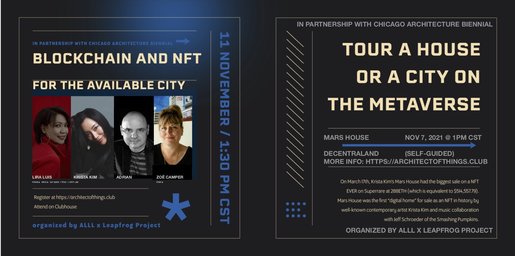 Listen: Blockchain and NFT for The Available City
After you've toured around an example of a house and a city utilizing Non-Fungible Tokens (NFTs) and Blockchain technology on the Metaverse, this panel will give you a big picture of how they all connect together because they will be important for the nearest future of how we design things on the mainstream. Our speakers will help you understand the ideas behind it all. Engage in the conversations between Zoë Camper FRSA, Krista Kim, Adrian Velicescu, and moderated by Lira Luis FRIBA, FRSA, NCARB, CEM, LEED AP. Presented in partnership with Chicago Architecture Biennial, AoT, and ALLL x Leapfrog Project.
CLICK HERE TO LISTEN TO PANEL, ON DEMAND
Blockchain and NFT for The Available City, in partnership with Chicago Architecture Biennial
Lira Luis FRIBA FRSA NCARB CEM LEEDAP
Moderator
Lira Luis is Chief Collaboration Architect at ALLL and Founder of Leapfrog Project. She successfully organized and led Chicago Architecture Biennial Partner Programs since its inauguration in 2015 collaborating with high-level industry stakeholders that included the RIBA USA and United Nations Women to name a few. She has been a keynote speaker, panel speaker, and moderator at national conferences named in the "Gold 100 Listing of the world's largest and most successful trade shows" for the past 20 years. When she learned about Blockchain, she knew it would revolutionize the architecture and design world in ways no one could imagine. Her 2019 presentation upload "Blockchain as Building Blocks for Architecture & Cities" is widely read in ResearchGate. As blockchain rapidly increases in popularity among business leaders across industries & countries, she will moderate a partner program at the Biennial that will take you on a journey through what makes Blockchain and NFTs such powerful technologies and ways they would disrupt architecture and cities.
Krista Kim
Speaker
Krista Kim is creator of the world's first digital house sold on the NFT. She is a contemporary artist and founder of the Techism movement since 2014, promoting the confluence of art and technology, and technological innovation as a medium to further the development of digital humanism. She believes that artists must participate at the vanguard of technological innovation in order to contribute to the creation of future culture during this pivotal period of technological innovation, adaptation, and disruption. In her Digital Consciousness series, Krista gathers digital images of LED lights and manipulates them using multiple software to create her artwork, a technique that she has developed since 2012. Forbes has described Krista as, "the new digital Rothko." Krista is interested in the disruptive interpersonal and social effects of digital technology, as a force of distraction and segregation of people based on similar interests and likes through algorithms on social media. She seeks to communicate a transcendent, meditative experience for the viewer in digital visual language, which she describes as digital consciousness. Meditation is at the core of per practice and informs her philosophy and visual DNA.
Zoë Camper FRSA
Speaker
Founder and CEO Zoë Camper LLC., A Slow fashion, limited-edition art-wear tech company providing flexible work for local makers. I am the Co-Founder of The Augmented Society Network (Royal Society for the encouragement of Arts, Manufactures and Commerce USA) and an Elected Fellow of The RSA . You will find me, at my happiest, at the intersection of art and technology. I have extensive career in digital transformation and also hold a Post Graduate Cert of Education from Goldsmiths, University of London having gained my Hons Degree in 3D Design at The Surrey Institute of Art & Design, University College. I am from London and am currently living in fabulous Las Vegas, Nevada.
Adrian Velicescu
Speaker
Adrian is StandardVision's founder and chief creative force, and an internationally acclaimed filmmaker, photographer and designer. After studying theatrical and film lighting at the Academy for Theater and Film in Bucharest, Adrian moved to Los Angeles in 1983 where he worked as a director of photography, media designer and fine art photographer. His work has been exhibited worldwide as part of the renowned "Light and Space"exhibition at MoMA and the traveling "New Blood" exhibit. His commercial design and photography work have been featured in Vogue, Elle, Architectural Record, Domus, Interne and LA Style, among others. Adrian has produced and directed two feature films which were official selections of the Cannes, Sundance, Berlin, Tokyo and Montreal film festivals. In 2000 Adrian launched StandardVision as a media laboratory to extend the use of digital technology into lighting design and bring it to the world of public art and advertising. Mixing emerging technology with "out of the box" creative thinking, Adrian developed a new visual medium through the use of media façades and narrative lighting that delivers the high-quality visuals today's audiences demand, while complementing the architecture and community in which it resides. Holder of numerous patents, Adrian has been commissioned by real estate developers and local governments around the world to create architecturally-integrated media façades mixing art and commerce. He has become an internationally recognized expert in the use of LED lighting, and a coveted speaker at lighting, signage and real estate conferences. Adrian pioneered the development of proprietary reformatting software for large-scale architectural media displays and a digital synchronization distribution platform for displaying XHD formats of up to 8K on multiple buildings. He leads StandardVision's R&D department, and oversees all creative matters for the company.
AoT Founder
Lira Luis
AoT Founder
📐 🏢 🇺🇸 Architect for open-minded business owners looking to create spaces that work. 🥇 Because of my calling to commit to education and professional proficiency in design, sustainability, and innovation, I absolutely earned post-nominal initials in the USA and overseas: FRIBA, FRSA, R.A., NCARB, CEM, LEED AP 🖥️ I founded the Architect of Things (AoT) with presence on 👋 Clubhouse and 💎 Greenroom because when we explore and share how architecture is evolving, together—you and I can transform our world into sustainable and liveable spaces for people from all walks of life. Join AoT today where you'll belong, in other words it's your safe space! 🎏 I lean in to my curiosity because it leads me to explore new ways to solve problems and create value in designing spaces for 🍣 🎭 🏥 🏢 🏫 🏬. My projects range from designing spaces for business startups to Fortune 500 corporations. I work with commercial or retail or office or science or technology or multi-family or humanitarian clients in the USA and abroad. 🎥 Reached more than 50,000 views on YouTube videos where I was interviewed about Sustainability or Design. 🎙️ 📺 🎧 🖥️ Colleagues have said I'm the only architect they know to have ever zip-lined into an event to deliver a keynote presentation. Presented at: 1. Apple Store 2. United Nations (2030 Youth Force, Women) 3. NPR 4. Philippine Embassy in USA 5. Global 100 List of world's largest trade shows 📖 📰 Some of the publications that featured my work include: 1. Fast Company 2. The Wall Street Journal 3. Inhabitat 4. The Arizona Republic 5. Frank Lloyd Wright Quarterly ✈️ As Bleisure Traveler, I intentionally meet diverse people because I want to understand their challenges and inspire betterment of lives/communities. Most people who enjoyed meeting me share similar curious, humanitarian, and environmental values while open to different viewpoints. • Have paraglided into a construction site for a project meeting • Traveled by air enough to reach the moon • 41 of 50 🇺🇸 US states visited; • 23 countries visited: 🇺🇸 🇬🇧 🇮🇸 🇸🇪 🇩🇰 🇩🇪 🇳🇱 🇧🇪 🇫🇷🇨🇭🇮🇹 🇦🇹 🇪🇸 🇦🇪 🇯🇵 🇰🇷 🇵🇭 🇨🇳 🇭🇰 🇹🇭 🇸🇬 🇲🇽 🇧🇸 📍resided in 10 cities worldwide
Powered by Spore