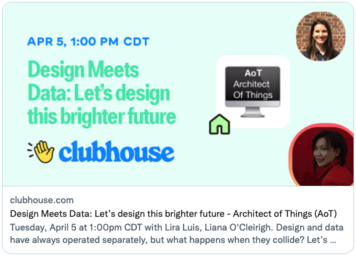 Design meets data: Let's design a brighter future
Design and data have always operated separately, but what happens when they collide? Let's chat about a new data-driven design paradigm that challenges us to rethink our design process and practice.
CLICK HERE TO LISTEN TO PANEL, ON DEMAND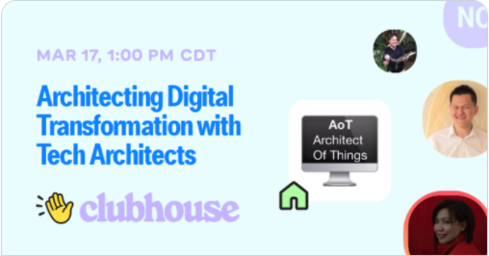 Architecting Digital Transformation with Big Tech
What does it mean to architect a digital transformation? What exactly is a "Big Tech" architect and who exactly are building architects? Can these 2 types of architects be together on the metaverse?
CLICK HERE TO LISTEN TO PANEL, ON DEMAND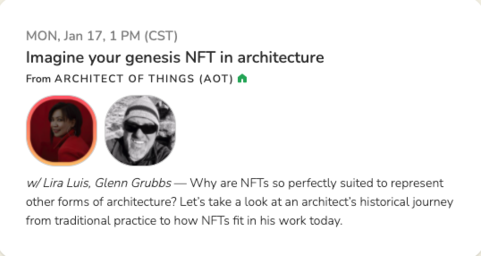 Imagine Your Genesis NFT in Architecture
Why are NFTs so perfectly suited to represent other forms of architecture? Let's take a look at an architect's historical journey from traditional practice to how NFTs fit in today's practices.
CLICK HERE TO LISTEN TO PANEL, ON DEMAND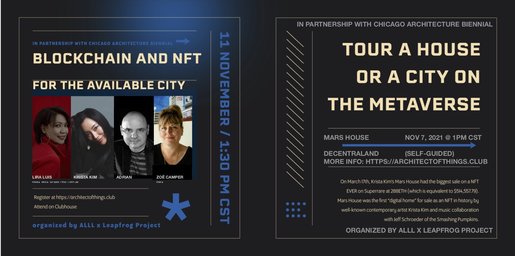 Blockchain and NFT for The Available City
After you've toured around an example of a house and a city utilizing Non-Fungible Tokens (NFTs) and Blockchain technology on the Metaverse, this panel will give you a big picture of how they all connect together because they will be important for the nearest future of how we design things on the mainstream. Our speakers will help you understand the ideas behind it all. Engage in the conversations between Zoë Camper FRSA, Krista Kim, Adrian Velicescu, and moderated by Lira Luis FRIBA, FRSA, NCARB, CEM, LEED AP. Presented in partnership with Chicago Architecture Biennial, AoT, and ALLL x Leapfrog Project.
CLICK HERE TO LISTEN TO PANEL, ON DEMAND
Architect Of Things (AoT)
🖥️️️ Architect of Things (AoT) is a network of "architects" searching and providing solutions to new worlds that intersect with science, software, and technologies for the purpose of connecting and exchanging experiences, knowledge, and stories within the physical reality and the virtual reality, over the Internet. The way architects operate is ever evolving due to the convergence of multiple technologies, social media, machine learning, commodity sensors, and embedded systems (environmental, biological, socio-political). 📐 The established architecture that is historically performed on physical reality, now converges with intersectionalities that contribute to enabling the Architect of Things. The AoT includes those who design traditional spaces, buildings, or environments, smart homes, smart cities, virtual spaces, and support one or more common ecosystems in the combined virtual and physical space (metaverse), which can be controlled via devices associated with that ecosystem (e.g. your smartphones, your Artificial-Intelligence-powered virtual assistant devices, Virtual Reality headsets, Augmented Reality fixtures, mixed-reality smart glasses, etc). Just one more thing, we know you have many clubs to choose from and we thank you for choosing to follow the Architect of Things. Join AoT on 👋 Clubhouse and 💎 Greenroom today! You'll belong, in other words it's your safe equitable space! 📱 Text AoT toll-free: +1 (833) 937-8423
Recent guests
Liana O'Cleirigh
Award-winning Interaction Designer and Fellow of The RSA
Robert Kerans
Senior Architect in Big Tech
Nimeesha Chan
PhD researcher, Johns Hopkins School of Engineering
Glenn Grubbs
Artist & Architect minting NFTs
Zoë Camper FRSA
Co-Founder of The Augmented Society Network of The RSA USA
Adrian Velicescu
StandardVision's founder and chief creative force
Krista Kim
Mars House - World's first digital house sold on the NFT
Adrian Stein
Quantum Mirror - World's first physical NFT installation
Ogbonnaya Agom-Eze
Founder & Editor-In-Chief @Oaekpost
Minerva Montooth
Frank Lloyd Wright Foundation - Social Director
Lira Luis
AoT Founder
📐 🏢 🇺🇸 Architect for open-minded business owners looking to create spaces that work. 🥇 Because of my calling to commit to education and professional proficiency in design, sustainability, and innovation, I absolutely earned post-nominal initials in the USA and overseas: FRIBA, FRSA, R.A., NCARB, CEM, LEED AP 🖥️ I founded the Architect of Things (AoT) with presence on 👋 Clubhouse and 💎 Greenroom because when we explore and share how architecture is evolving, together—you and I can transform our world into sustainable and liveable spaces for people from all walks of life. Join AoT today where you'll belong, in other words it's your safe space! 🎏 I lean in to my curiosity because it leads me to explore new ways to solve problems and create value in designing spaces for 🍣 🎭 🏥 🏢 🏫 🏬. My projects range from designing spaces for business startups to Fortune 500 corporations. I work with commercial or retail or office or science or technology or multi-family or humanitarian clients in the USA and abroad. 🎥 Reached more than 50,000 views on YouTube videos where I was interviewed about Sustainability or Design. 🎙️ 📺 🎧 🖥️ Colleagues have said I'm the only architect they know to have ever zip-lined into an event to deliver a keynote presentation. Presented at: 1. Apple Store 2. United Nations (2030 Youth Force, Women) 3. NPR 4. Philippine Embassy in USA 5. Global 100 List of world's largest trade shows 📖 📰 Some of the publications that featured my work include: 1. Fast Company 2. The Wall Street Journal 3. Inhabitat 4. The Arizona Republic 5. Frank Lloyd Wright Quarterly ✈️ As Bleisure Traveler, I intentionally meet diverse people because I want to understand their challenges and inspire betterment of lives/communities. Most people who enjoyed meeting me share similar curious, humanitarian, and environmental values while open to different viewpoints. • Have paraglided into a construction site for a project meeting • Traveled by air enough to reach the moon • 41 of 50 🇺🇸 US states visited; • 23 countries visited: 🇺🇸 🇬🇧 🇮🇸 🇸🇪 🇩🇰 🇩🇪 🇳🇱 🇧🇪 🇫🇷🇨🇭🇮🇹 🇦🇹 🇪🇸 🇦🇪 🇯🇵 🇰🇷 🇵🇭 🇨🇳 🇭🇰 🇹🇭 🇸🇬 🇲🇽 🇧🇸 📍resided in 10 cities worldwide
Powered by Spore