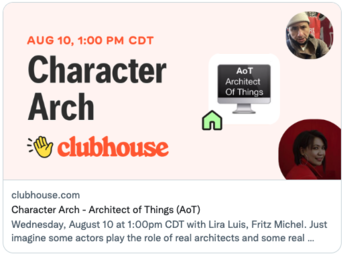 Character Arch
Just imagine, some actors play the role of real architects and some real architects also play fictional roles. Let's unravel the strange relationships between architecture and performance, as well as how these different worlds continue to interact around us, by chatting with actor Fritz Michel, who has played the role of an architect several times.
CLICK HERE TO LISTEN, ON DEMAND
Architect Of Things (AoT)
🖥️️️ Architect of Things (AoT) is a network of "architects" searching and providing solutions to new worlds that intersect with science, software, and technologies for the purpose of connecting and exchanging experiences, knowledge, and stories within the physical reality and the virtual reality, over the Internet. The way architects operate is ever evolving due to the convergence of multiple technologies, social media, machine learning, commodity sensors, and embedded systems (environmental, biological, socio-political). 📐 The established architecture that is historically performed on physical reality, now converges with intersectionalities that contribute to enabling the Architect of Things. The AoT includes those who design traditional spaces, buildings, or environments, smart homes, smart cities, virtual spaces, and support one or more common ecosystems in the combined virtual and physical space (metaverse), which can be controlled via devices associated with that ecosystem (e.g. your smartphones, your Artificial-Intelligence-powered virtual assistant devices, Virtual Reality headsets, Augmented Reality fixtures, mixed-reality smart glasses, etc). Just one more thing, we know you have many clubs to choose from and we thank you for choosing to follow the Architect of Things. Join AoT on 👋 Clubhouse and 💎 Greenroom today! You'll belong, in other words it's your safe equitable space! 📱 Text AoT toll-free: +1 (833) 937-8423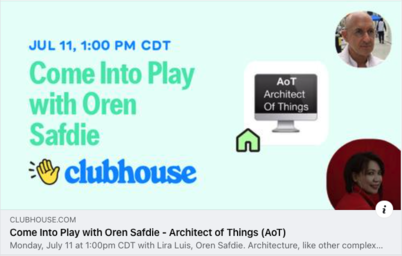 Come Into Play with Oren Safdie
Architecture, like other complex arts, can be compelling drama and convincing comedy for theater. Listen how award-winning playwright, Oren Safdie, reaches pluralistic audiences when architecture and theater come into play. Oren originally planned to become an architect like his father Moshe Safdie. He obtained a master of architecture degree, attending the Graduate School of Architecture at Columbia University in New York. During his final semester there, he took an elective playwriting course and was hooked on it after winning a competition run by the Columbia Dramatists. He wrote a 10-minute scene, drawing on his experience at Columbia presenting a design to a jury of critics, which involved three ego-driven architects and one student. This eventually became the play, Private Jokes Public Places.
CLICK HERE TO LISTEN, ON DEMAND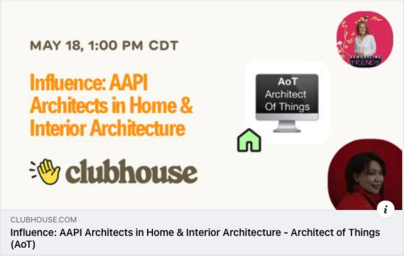 Influence: AAPI Architects in Home and Interior Architecture
Yes, the AAPI experience as an architect is unique — but not just because of our ethnic backgrounds. And Rose Dostal, AIA, ASID lets us discover and unpack how and why. She's the owner of RMD Designs LLC based in Ohio, USA. You might have encountered her on Clubhouse already where she talks about additions, remodeling, renovations, kitchen design, and kitchen renovation. On our AoT Clubhouse room on May 18, 2022, she shared these through the lens of an Asian American licensed architect.
CLUBHOUSE ROOM LINK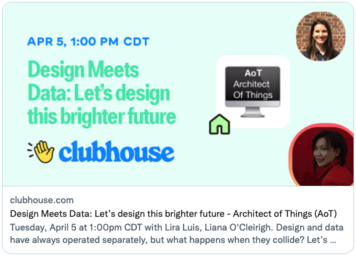 Design meets data: Let's design a brighter future
Design and data have always operated separately, but what happens when they collide? Let's chat about a new data-driven design paradigm that challenges us to rethink our design process and practice.
CLICK HERE TO LISTEN TO PANEL, ON DEMAND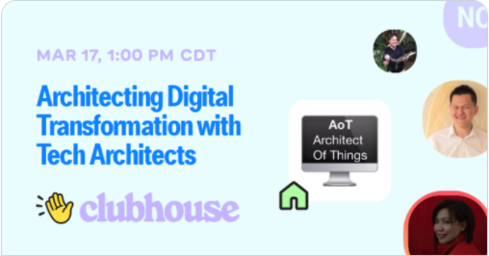 Architecting Digital Transformation with Big Tech
What does it mean to architect a digital transformation? What exactly is a "Big Tech" architect and who exactly are building architects? Can these 2 types of architects be together on the metaverse?
CLICK HERE TO LISTEN TO PANEL, ON DEMAND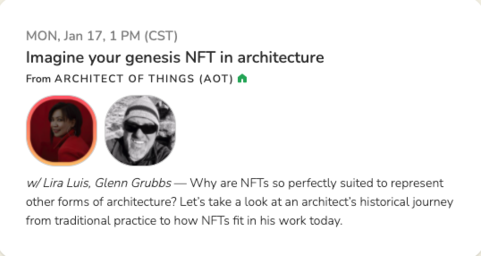 Imagine Your Genesis NFT in Architecture
Why are NFTs so perfectly suited to represent other forms of architecture? Let's take a look at an architect's historical journey from traditional practice to how NFTs fit in today's practices.
CLICK HERE TO LISTEN TO PANEL, ON DEMAND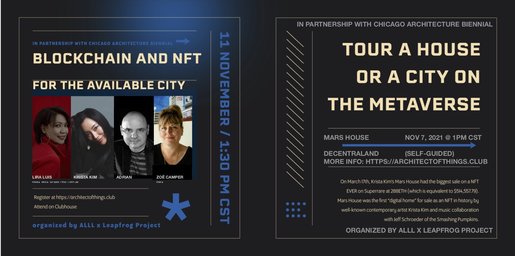 Blockchain and NFT for The Available City
After you've toured around an example of a house and a city utilizing Non-Fungible Tokens (NFTs) and Blockchain technology on the Metaverse, this panel will give you a big picture of how they all connect together because they will be important for the nearest future of how we design things on the mainstream. Our speakers will help you understand the ideas behind it all. Engage in the conversations between Zoë Camper FRSA, Krista Kim, Adrian Velicescu, and moderated by Lira Luis FRIBA, FRSA, NCARB, CEM, LEED AP. Presented in partnership with Chicago Architecture Biennial, AoT, and ALLL x Leapfrog Project.
CLICK HERE TO LISTEN TO PANEL, ON DEMAND
Recent guests
Oren Safdie
Award-winning Playwright, Screenwriter, Educator
Rose Dostal,ASID,AIA
Top 100 Influencer in Home Design Industry
Liana O'Cleirigh, FRSA
Award-winning Interaction Designer and Fellow of The RSA
Robert Kerans
Senior Architect in Big Tech
Nimeesha Chan
PhD researcher, Johns Hopkins School of Engineering
Glenn Grubbs
Artist & Architect minting NFTs
Zoë Camper FRSA
Co-Founder of The Augmented Society Network of The RSA USA
Adrian Velicescu
StandardVision's founder and chief creative force
Krista Kim
Mars House - World's first digital house sold on the NFT
Adrian Stein
Quantum Mirror - World's first physical NFT installation
Ogbonnaya Agom-Eze
Founder & Editor-In-Chief @Oaekpost
Minerva Montooth
Frank Lloyd Wright Foundation - Social Director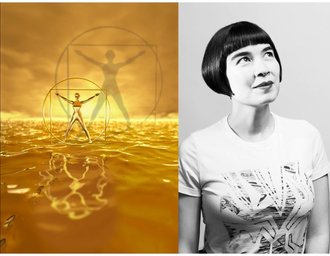 Celebrating the key role of Asian Americans
Our world has increasingly become a global village and AAPIs are one of the most populated minority groups in the USA. During AAPI Heritage Month of May, discover how AAPI architects are making impacts for their communities and beyond. Despite the positive changes that BIPOC individuals and Asian Americans are making in the design field, they still face many challenges. Appropriate representation of the record 22 million Asian American population in the USA, in particular as it pertains to an article by the Pew Research Center, is one of them. The title of that article is "Key facts about Asian Americans, a diverse and growing population" published on APRIL 29, 2021. Featured in AoT's celebration of AAPI Heritage Month is is Drue Kataoka who you might most recently encountered as one of Clubhouse's icons. She is curator of an ongoing exhibit called The Gold Standard. Architects and artists have long been designing with the Vitruvian Man in mind, a drawing made by Leonardo da Vinci in 1490 that aimed to represent the proportions of the human body according to Vitruvius. Drue took on the challenge of re-imagining this and challenges us to do the same in her "Vitruvian Woman".
Pew Research: Key facts about Asian Americans, a diverse and growing population
When compared to other demographics (particularly White Americans), there aren't immensely large numbers of designers in architecture who are Asian American. The 2020 National Council of Architectural Registration Boards (NCARB) released aggregated data that there are only 6% Asian American architects in the USA. There has yet to be research done on the disaggregated data about each of the 20 countries which represent the diverse U.S. Asian population having roots from East and Southeast Asia and the Indian subcontinent, and their representation in architecture. Perhaps if their presence was better reflected in the design media including architecture clubs and institutes, we'd see more people getting involved — especially younger generations who may have an interest in architecture or interior architecture but lack a connection to the field currently because their culture isn't appropriately represented. Admittedly, I'm an AAPI architect myself, who lives and breathes architecture. I spend most of my days immersed in the latest innovation and technologies in architecture (and often lamenting the lack there-of). Despite the creative power of equitable practices, architecture — like many other industries — is fraught with racism. Some of these problems manifest as explicit incidents, while others are more implicit or subtle. In either case, such issues can present a myriad of challenges for AAPI architects and designers, making it difficult for diverse voices to contribute their fullest potential. Sometimes I've been asked by well-meaning colleagues if I knew a certain Filipino family within my home state or in other states in the USA, implying that since we are both Filipinos, we would know each other. Conversations like this have happened more than once, and they always hit me like a ton of bricks. Sure, at first glance Asians look alike, and yes it is common to mistake us for other Asians. But in the digital era, where we're all randomly connected with millions of people across the globe; social media platforms have now created global communities where everyone is connected to everyone else. And heritage identities tend to be diverse and fluid so we need to be cognizant of these.
Lira Luis
AoT Founder
📐 🏢 🇺🇸 Architect for open-minded business owners looking to create spaces that work. 🥇 Because of my calling to commit to education and professional proficiency in design, sustainability, and innovation, I absolutely earned post-nominal initials in the USA and overseas: FRIBA, FRSA, R.A., NCARB, CEM, LEED AP 🖥️ I founded the Architect of Things (AoT) with presence on 👋 Clubhouse and 💎 Greenroom because when we explore and share how architecture is evolving, together—you and I can transform our world into sustainable and liveable spaces for people from all walks of life. Join AoT today where you'll belong, in other words it's your safe space! 🎏 I lean in to my curiosity because it leads me to explore new ways to solve problems and create value in designing spaces for 🍣 🎭 🏥 🏢 🏫 🏬. My projects range from designing spaces for business startups to Fortune 500 corporations. I work with commercial or retail or office or science or technology or multi-family or humanitarian clients in the USA and abroad. 🎥 Reached more than 50,000 views on YouTube videos where I was interviewed about Sustainability or Design. 🎙️ 📺 🎧 🖥️ Colleagues have said I'm the only architect they know to have ever zip-lined into an event to deliver a keynote presentation. Presented at: 1. Apple Store 2. United Nations (2030 Youth Force, Women) 3. NPR 4. Philippine Embassy in USA 5. Global 100 List of world's largest trade shows 📖 📰 Some of the publications that featured my work include: 1. Fast Company 2. The Wall Street Journal 3. Inhabitat 4. The Arizona Republic 5. Frank Lloyd Wright Quarterly ✈️ As Bleisure Traveler, I intentionally meet diverse people because I want to understand their challenges and inspire betterment of lives/communities. Most people who enjoyed meeting me share similar curious, humanitarian, and environmental values while open to different viewpoints. • Have paraglided into a construction site for a project meeting • Traveled by air enough to reach the moon • 41 of 50 🇺🇸 US states visited; • 23 countries visited: 🇺🇸 🇬🇧 🇮🇸 🇸🇪 🇩🇰 🇩🇪 🇳🇱 🇧🇪 🇫🇷🇨🇭🇮🇹 🇦🇹 🇪🇸 🇦🇪 🇯🇵 🇰🇷 🇵🇭 🇨🇳 🇭🇰 🇹🇭 🇸🇬 🇲🇽 🇧🇸 📍resided in 10 cities worldwide
Powered by Spore